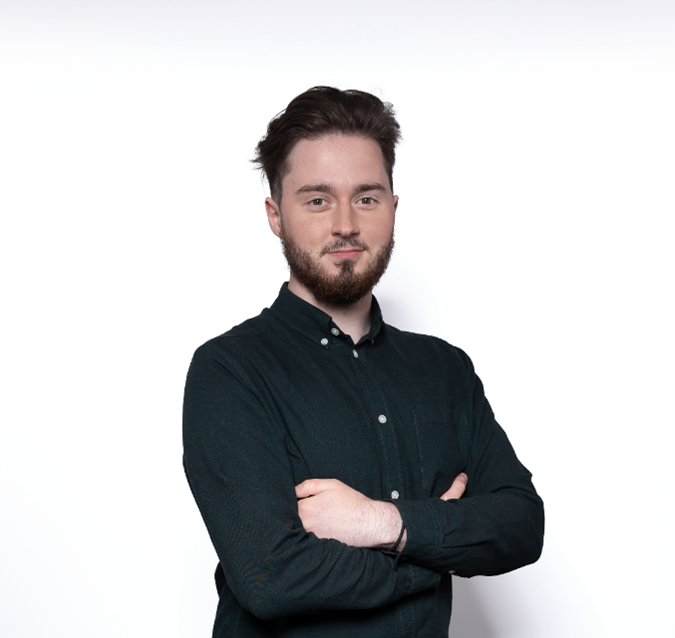 Zygimantas Balevicius, the A320 Mechanic and Part-145 Technical Records Engineer at our subsidiary Avion Express had a passion for aviation ever since his teenage years, which led him to study and gain a bachelor's degree in Aeronautical-Mechanical Engineering. However, Zygimantas' career's turning point was two internships at Avion Express.
Zygimantas first joined the company in 2019 as an intern in the Operations Department, where he worked mostly with manuals and procedures. Zygimantas recalls that joining the industry and seeing how things work inside it helped him gain invaluable experience and practical knowledge, which was something he, unfortunately, never received at the university. "The colleagues were very supportive and patient, too, and explained how aviation works and what I should focus on. The internship was a life changer to me, and I mean it."
Zygimantas' determination and will to work in aviation didn't go unnoticed — after the internship, he got offered a position as a Junior Operations Engineer, but it lasted less than a year because of the Covid-19 pandemic. Zygimantas didn't give up and decided to continue his career as an IOCC Documentation Officer.
"During that period, I became even more interested in aviation and gained extensive knowledge about aircraft. After some time, I was offered a position at Avion Express again as Part-145 Technical Records Engineer. While working with technical documentation, my interests became narrower, and I wanted to stay in maintenance and try the path of an Aircraft Mechanic. After finishing my studies, I contacted Avion Express and asked if they could offer an Aircraft Mechanic's position in line maintenance. Since then, I've been working both as an A320 Mechanic and a P-145 Technical records engineer", shares Zygimantas.
As rewarding as Zygimantas' career is, it doesn't come without its challenges. At the moment, he struggles with changing sleeping patterns — as a Part-145 Technical Records Engineer, Zygimantas usually works during the daytime in the office, but as a Mechanic, he's mostly on night shifts.
"Nevertheless, both jobs seem to me like a perfect balance. I get some theoretical knowledge while working in the office and then apply it in the field as an Aircraft Mechanic and gain even more experience. Besides, aviation and especially Aircraft Mechanic's career is what I truly enjoy and have dreamt about for a long time.", says Zygimantas.
Zygimantas is also fond of his colleagues and the atmosphere at work, which, he says, is "respectful, yet calm and friendly." It came as a pleasant surprise to him, though — before joining the industry, Zygimantas didn't expect the aviation professionals to be that helpful and genuine. The basic principle Zygimantas himself follows is "be kind to the others, and they will be kind to you."
Fulfilling one of his biggest dreams and further improving his skills is what motivates Zygimantas every day. He's fascinated by aviation's job variety and believes that everyone can find a place in the sector to grow personally and professionally.
"I would encourage any student to join the internship program — it's an excellent trampoline for your future career. And even if things seem difficult at times, never give up and enjoy the journey because, as my example shows, any goal can be achieved with the right attitude and amount of work."