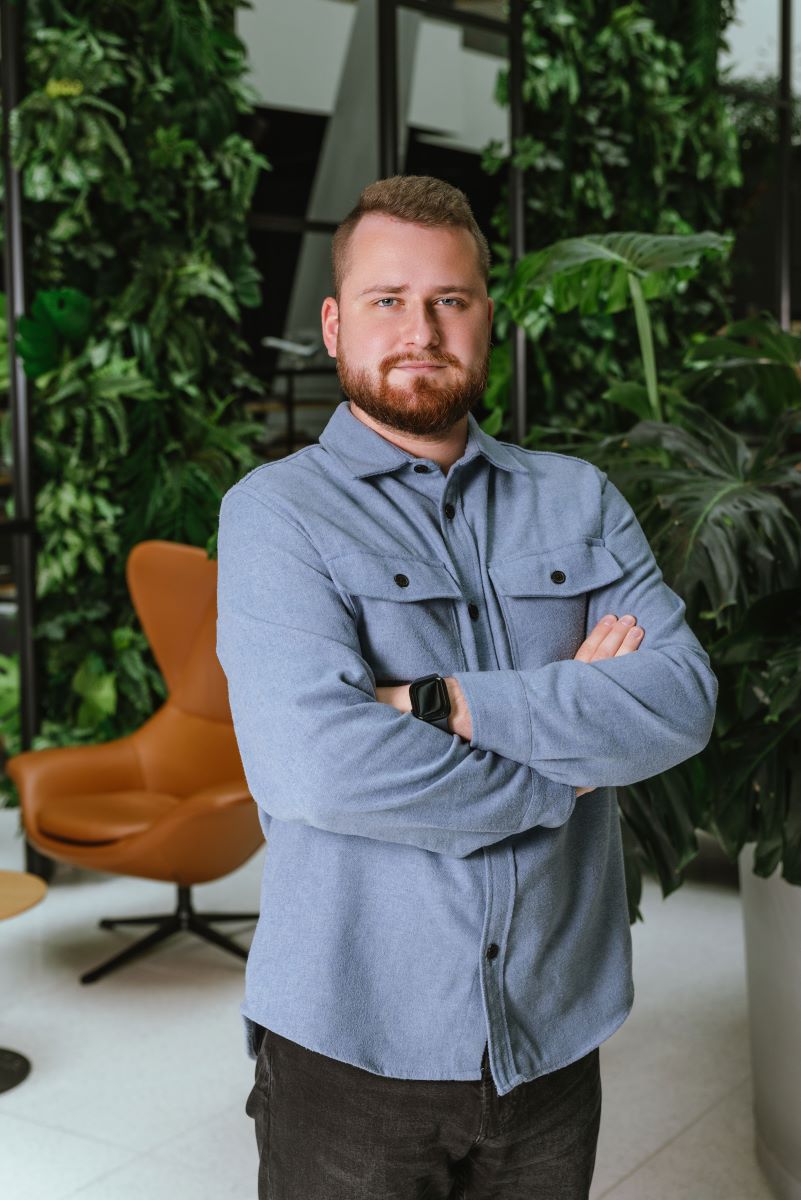 Dmitrij Kostojanskij, Chief Compliance Specialist at Baltic Ground Services (BGS), has been named Employee of the Year 2022 in the category of Safety/Heroism. His devotion to his work is active 24/7 and strongly evaluated by customer airlines. Dmitrij is responsible for an outstanding 93% score for implementation results with ISAGO (the best in their history) and a 44% decrease in audit findings.
"I am grateful to Avia Solutions Group for the recognition", says this year's winner. He still feels surprised and a little bit shocked, but what he's certain about is that the results would not be what they are today if it wasn't for his team. You could feel the humbleness throughout Dmitrij's acceptance speech too. According to him, the nomination goes to the whole department, as each team member is worthy of it.
When asked to recall how the journey with BGS started, Dmitrij answered with a smile: "Sadly, there are no vivid memories of my first day at work, which was back in 2018, but I remember feeling very welcome". He also added that he never had any doubts about joining this company, no matter how challenging some periods were. "Staying focused and keeping your mind sharp is surely the most energy-consuming part for anyone in the same role as me – you cannot make hasty, rash decisions when it comes to compliance and security", he shares.
After spending half a decade in this team alone, Dmitrij has learned how to deal with the emotional tension that can come with all the daily responsibilities. His solution is simple yet effective — to travel as much as possible. Exploring new places is proven to be a great help for relieving stress, so he always tries to go on a short trip at least 1-2 times a month (if the workload allows).
Last year is a perfect example of how quality time off can become more precious than gold. "2022 was full of sleepless nights and many surprising events that required quick responses and efficient decision-making", Dmitrij remembers. The biggest challenge for him, however, was maintaining the rapid growth of operations while ensuring safe, high-quality services in these rather unfavorable conditions. As we all know, the world was 'shut down' for a while, then the war in Ukraine started, which introduced changes to the compliance of aviation services.
Dmitrij believes that despite the unpredictable future of this field, it's still extremely important to set goals and plan. His key focus of this year will be the safety of operations and employees and to be more open for non-standard solutions: "Taking 2022 experiences as a steppingstone, in cases where no solution seemed to work, thinking out of the box became the ultimate answer".
BGS and the group are in a constant state of growth, creating an atmosphere of opportunity. Dmitrij enjoys being a part of an international company where his knowledge and expertise can be used on a more global level. "I feel support wherever I go, anywhere in the world, which is crucial for my professional and personal development", he shares with gratitude.