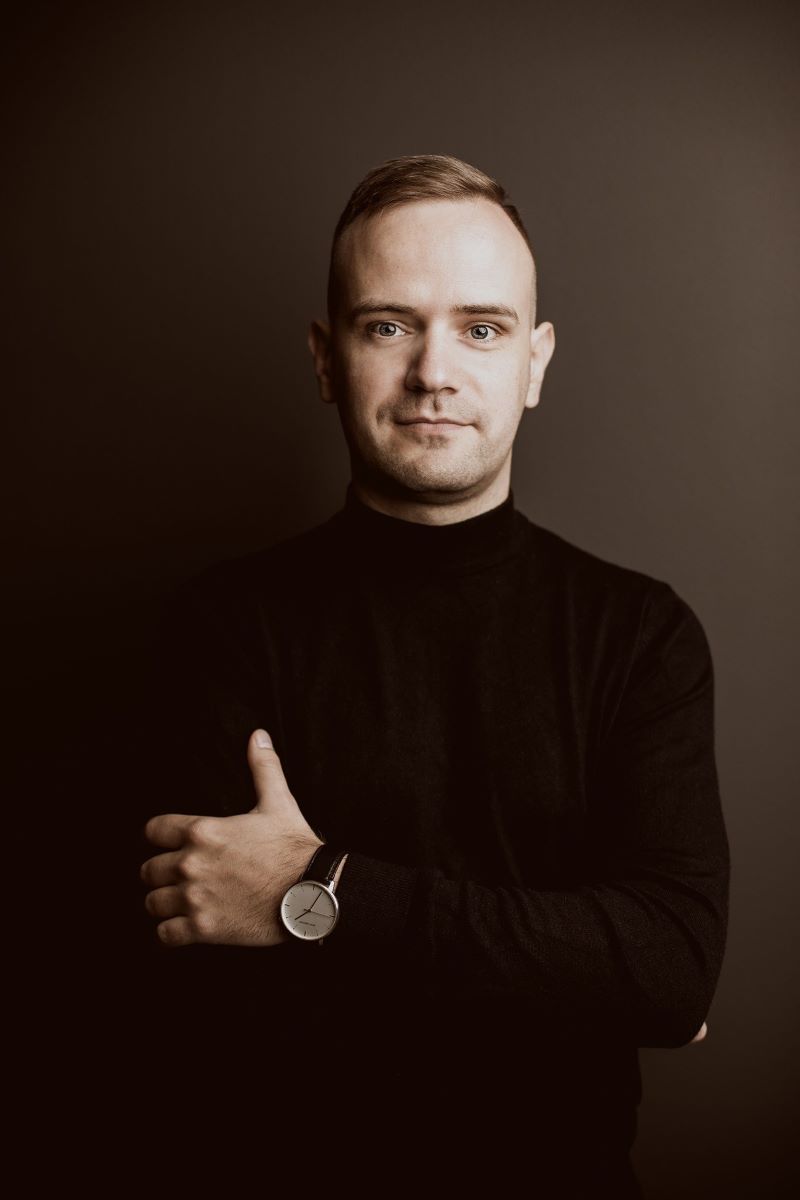 Arijus Sulcas, the Senior Developer at the Marketing Department of Avia Solutions Group, has been named the Employee of the Year 2022 in the category of Devotion to Duty. This came as no surprise, as Arijus is an excellent team player and always presents strong solutions to various challenges. Last year, Arijus also lead some big development projects, established new back-end systems, tutored junior developers, and was a shining example of the entrepreneurial spirit we encourage within the Group.
How did it make Arijus himself feel being named the Employee of the Year? "Awesome! It's sometimes still hard to believe that, but the trophy on the table reminds me that the achievement is real."
Arijus joined Avia Solutions Group 8 years ago. When asked about his first days here, he smiles, "I vaguely remember my first working day in the office. I recall there were a lot of new colleagues gathering around, and I received quite a few challenging tasks from the very beginning. I was eager to learn the specifics of programming in the aviation field, though, so I couldn't complain."
However, Arijus' journey towards his successful career began way earlier, when he was still a teenager. He can even tell the exact moment when his passion for programming started, "I strongly believe that one of the Christmas gifts I received as a teenager brought me to the professional programmer career path. It was my first personal computer, which became my driving motivation to start creating various projects, such as an FTP server for my hometown community, for example. Year by year, I have developed my skills, and from the day I joined Avia Solutions Group, I have been given more and more opportunities to learn and achieve ambitious work-related goals."
Last year, Arijus worked on quite a few significant projects, including building the Group's careers website, KlasJet and Aviation CV web pages, and programming the whole system of the external client, car washing company's, operations, of which he's most proud.
Even though 2022 was hard for everyone, including the aviation industry, Arijus says it has also taught him some invaluable lessons. During this challenging period, he has learned that a strong team spirit can go a long way, and when everyone tries to do their best, all the limits and boundaries disappear. Arijus already set his goals for 2023, too — his main desire right now is to deepen his knowledge in the field of website security.
For Arijus, being a part of the Avia Solutions Group family means opportunities, challenges, and a pleasant working environment. He feels mostly challenged when he works with the big players in the field and the projects where programming includes financial functionalities.
Arijus has advice to the future Employees of the Year, too, "I've given those same pieces of advice to myself for years, and they worked, so I feel secure to share them with others. Be honest, hard-working, responsible, and curious. It sounds like a lot, but if you take one step at a time, you'll start seeing the difference it makes, believe me."