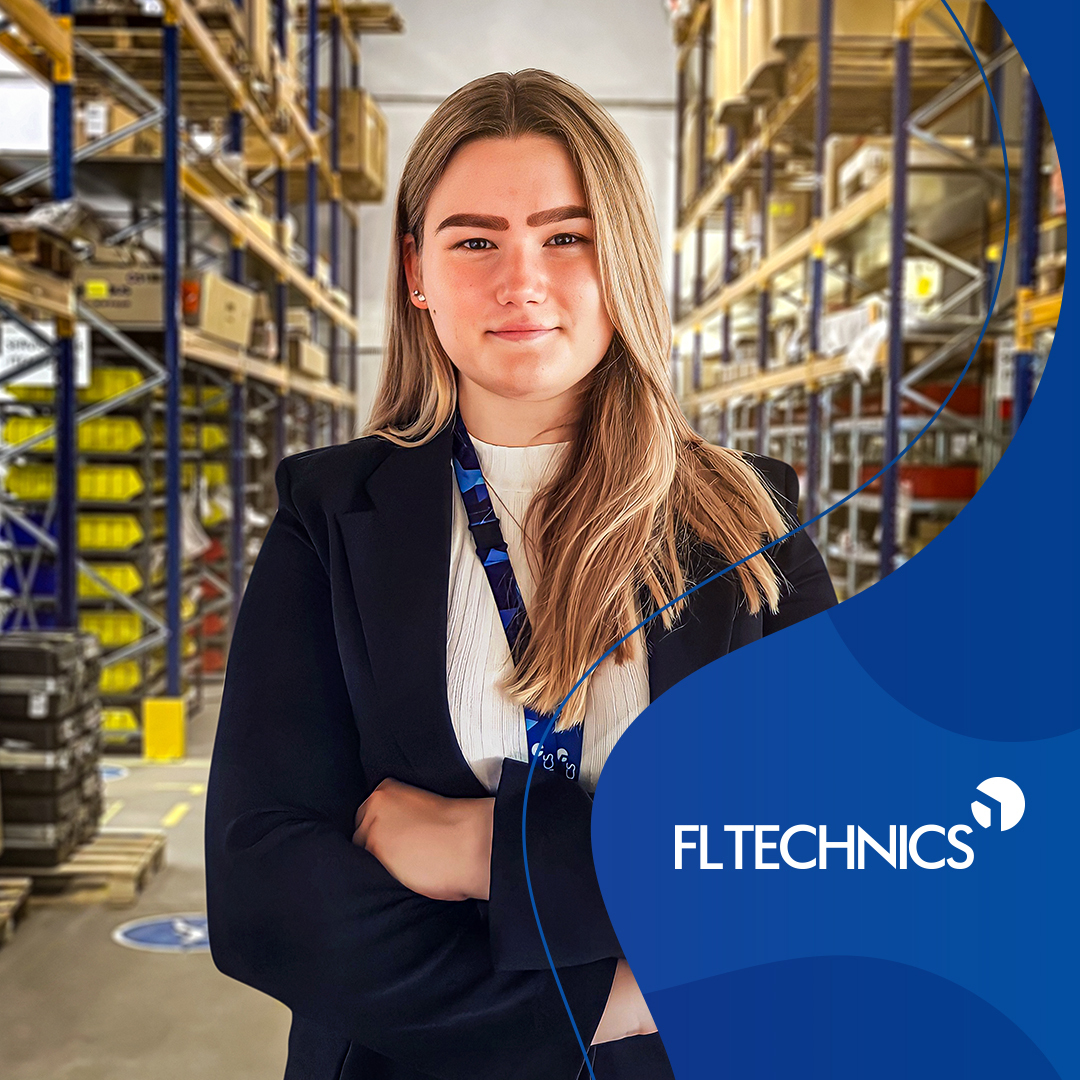 The Logistics Manager at FL Technics, Austeja Randyte, is one of those lucky people who always knew what they wanted. She recalls her early childhood as a moment when her love for aviation was born, "I could spend hours gazing at airplanes taking off and landing. Of course, I didn't even think about my career at the time, but here I am today — and I couldn't be happier."
Back in her high school years, Austeja had many other career dreams, too, but finally decided to study logistics. As a university student, she accidentally discovered FL Technics — and that's when her path in aviation officially began. Austeja was offered an internship at the logistics and storage department as an Assistant to the Logistics Manager, which she gladly accepted.
Austeja still remembers her first days of the internship and says it was an invaluable experience, during which not only did she have a unique opportunity to observe the entire process of aviation logistics but also learned how to quickly respond to urgent situations and resolve various problems. "I learned how to work efficiently both individually and in a team and became more familiar with all the necessary documentation in the transportation of aircraft components," recalls Austeja. It didn't all end with an internship — right after it, Austeja got a job as a Logistics Manager, which has helped her further deepen her knowledge of aviation and related logistics processes.
What fascinates Austeja most about her job is that it never gets boring, and every day is full of things to learn and issues to solve. Right now, she's most proud of being a part of a new and fast-growing project called "Wheels and Brakes". Her biggest challenge remains stressful situations, such as, for example, urgent cargo being delayed. "It doesn't matter that it's often not even your fault — it still always is a psychological challenge to cope with those obstacles because you know how much responsibility is on your shoulders," shares Austeja.
When asked about Avia Solutions Group's culture and colleagues, Austeja believes that both Avia Solutions Group and its subsidiaries live by their values, which she finds inspiring. "My colleagues at FL Technics are super friendly, always ready to help with any questions, and always warmly welcoming newcomers and people just starting their careers in the aviation industry."
Austeja recommends an internship to anyone willing to widen their professional horizons and as an excellent trampoline to an exciting career in aviation. It's also a unique way to learn things hands-on. "During my internship, I was privileged enough to learn things from the best people in the industry. I realized that in aviation, every detail is important, and every mistake can be expensive. So all of us need to work as hard as possible and be attentive at all times."