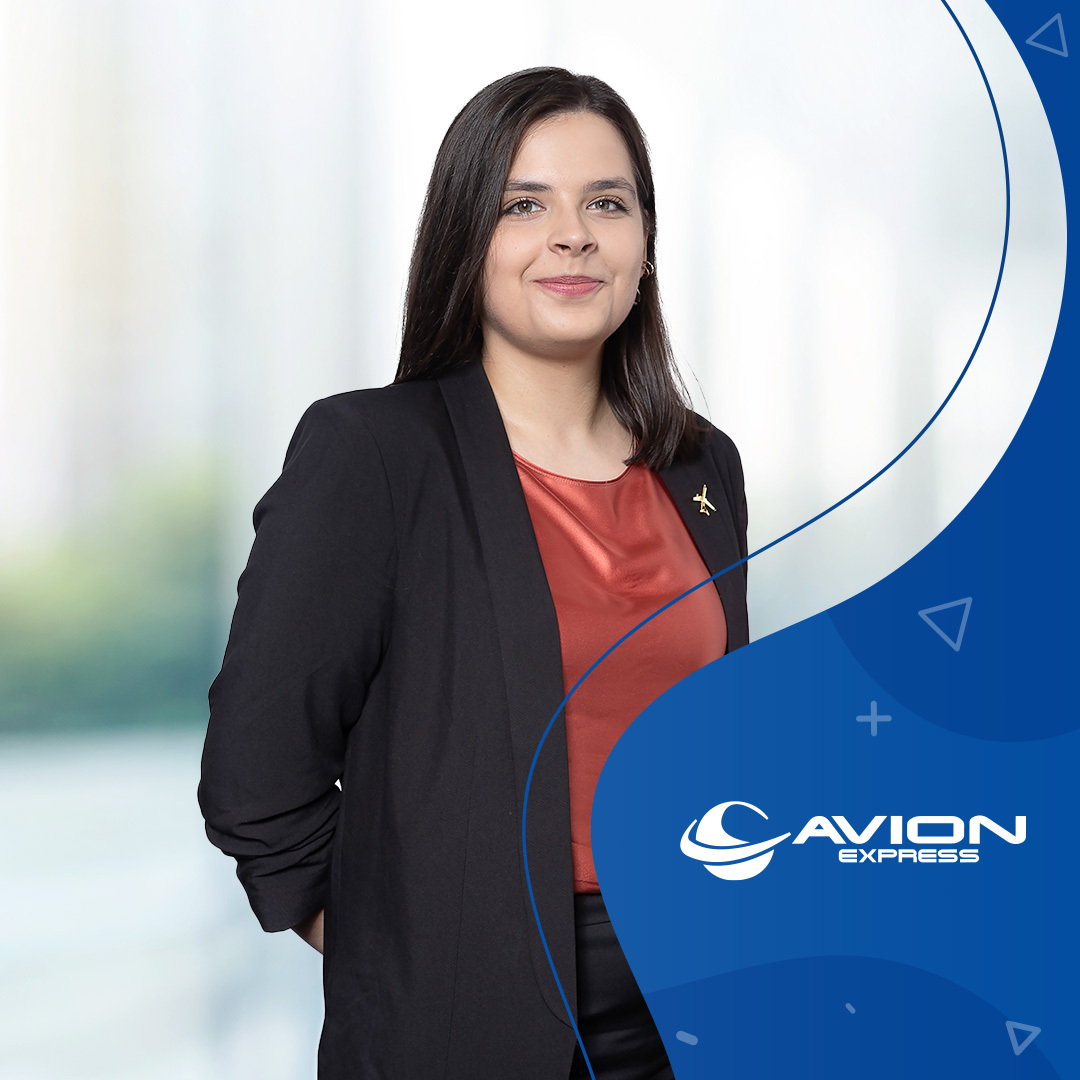 Roberta Gaidamaviciute, a Senior Technical Library and Records Engineer at our subsidiary Avion Express, shares how she achieved this role in just over two years. She started as an intern while studying Air Traffic Control and is now certain that it's the early choices that led her to current career success.
Roberta's passion for aviation dates back to her early teenage years when she witnessed a plane performing a go-around near Palanga Airport. Although she didn't understand the 'phenomenon' at the time, this sparked her curiosity and inspired her to choose a career in the field.
Roberta applied to study Air Traffic Control, but during the practical part of her studies, she realized this exact path might not be right for her. Yet, her love for aviation persisted, motivating her to explore further. "By then, I was completely in love with planes and couldn't see myself working anywhere else", she says.
Being certain that there must be more to aviation encouraged her to start an internship in Flight Operations Engineering at Avion Express. She remembers, "I was constantly learning something new about the behind the scenes of aviation — all the different procedures, manuals, and departments… As a student, I didn't realize there was such a variety of roles to choose from!"
After the internship, Roberta was offered to stay and take the role of a Junior Flight Operations Engineer. Without much hesitation, she embraced the offer as an opportunity for professional growth. The Group and its subsidiaries are happy to support young aviators, which is why Roberta could easily balance her schedule, not missing any important lectures or assignments. Eventually, the long-awaited master's diploma was in her hands.
But every success story has its challenges. In Roberta's case, right after she joined the team, Covid-19 struck, causing a considerable pause. And even that didn't set her back! As soon as the industry was starting to recover, Roberta learned about an opening in the maintenance department. "I used to believe I'd never work in maintenance due to my limited understanding of the technical aspects of aviation, however, I decided to challenge myself and begin my journey as a Technical Records Engineer", she explains.
With a great mentor by her side, all the technicalities grew less intimidating, and within a year, she had "senior" added to her role. In this position, Roberta oversaw the team, mentored newcomers, assigned tasks, and ensured timely completion. Later, working as a Senior Technical Library and Records Engineer, her responsibilities have expanded even more, with a focus on implementing the technical library.
Since our last interview with Roberta, she has taken another significant step up the career ladder. Today, she's a newly appointed Junior AD/SB Engineer, also taking on a portion of the responsibilities typically handled by the Maintenance Safety Officer.
When asked what excited her about this job, she said, "I enjoy the mix of routine tasks and creative challenges. The office environment is wonderful too, and I'm grateful for the colleagues who have become my friends." And while this young professional seems fearless about her career choices, she's actually afraid of flying — a true example of how delving into one's fears can unlock something greater.