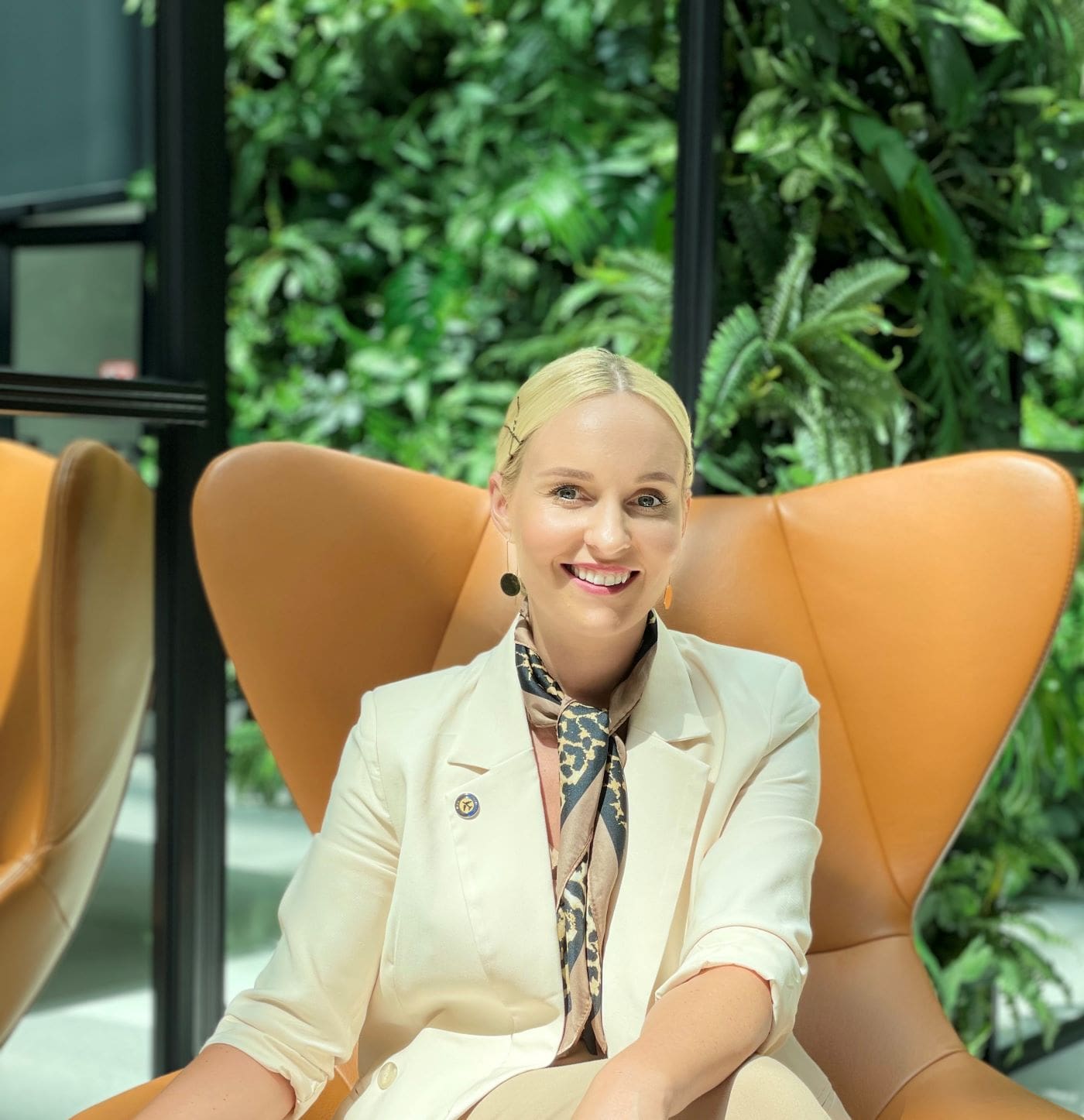 According to Akvilė Bakūnaitė, the JETMS Head of Communications and Marketing, working with JETMS means that, "Every employee has the opportunity to achieve more, and to demonstrate their best skills, offer new ideas, and make an impact for meaningful change."
It was this open and proactive approach that saw Akvilė quickly rise from her position as Communications and Marketing Manager to Head of Communications and Marketing after only one year. Three years later, Akvilė was the recipient of an Avia Solutions Group Employee of the Year Award, a true testament to her tireless efforts and persistence. Her determination was recognized by her colleagues and peers as being a valuable asset for the company in reaching its strategic goals – to become a preferred partner organisation for both clients and suppliers alike.
Before joining JETMS four years ago, Akvilė was awarded a Master's Degree in Organisational Leadership and had already racked up 12 years of experience in finance and aviation – working with clients, project management, business development, marketing, and communications. "However," says Akvilė, "when I started my career with JETMS, I never imagined that I would end up specialising and working in communications and marketing."
Having joined JETMS just four years ago, Akvilė believes that, "Being a part of the ASG family means an unlimited number of opportunities in terms of career, business, knowledge, network, projects, and much more. For me, every day is a learning day. We have such a respectful team of aviation and business professionals here at ASG, and that gives me a feeling of confidence, reliability, and pride."
When asked about the company atmosphere and ethos, Akvilė says, "I feel special belonging to this family, and I feel that my colleagues and managers trust in me as well – that's so powerful to know, that all together we are leaders in the world of aviation and the goals we all share and the results we deliver only serve to prove that."
In her role as Head of Communications and Marketing, and through her innovative leadership, JETMS has become one of the most highly visible MRO companies in the aviation industry, all of which was achieved through her strategic and far-reaching use of social channels, conferences and other outreach events. In a forward-thinking company like JETMS, such achievements are never overlooked and in Akvilė's case resulted in her receiving the prestigious Employee of the Year Award.
Regarding that recognition, Akvilė says proudly, "Of course, this recognition only strengthens my motivation. I will continue my work with the JETMS brand where I have many plans for the year ahead, especially now that our company is growing and has set some very ambitious goals. Our communications and marketing strategy is a very meaningful part of the overall business goals, so, I am not going to lesson my efforts because of this wonderful award."
For Akvilė, JETMS, and the entire aviation industry, the past two years have been tumultuous, to say the least, but how did this time affect her personally?
According to her, "While all the world was frozen because of the pandemic, we at JETMS were active like never before. Together with the new management team, we created a new business strategy and began its implementation. This meant that there were many changes and many challenges, but only positive ones."
It's at times like that we all need to be able to rely on our management teams, our friends, and our colleagues and that's how was at JETMS for Akvilė. "It was a time when we all had to trust each other, listen, and be brave. I am proud of the people around me, during the pandemic we increased our sold man-hours by 28% and oversaw the growth of the company's employee base by a further 20%," all major achievements when many in the industry saw only doom and gloom.
The Head of Communication and Marketing is rightly proud of the company's collective achievements. "We [JETMS] also witnessed new customer growth of 15%. We conducted a successful rebranding programme, were part of some exceptional projects, underwent a UK company acquisition, oversaw the opening of a new line maintenance station, received new approvals for maintenance capability expansions, introduced new aircraft type additions, and this is not even close to being the end of the list. For me, these past two years have felt like being part of an amazing performance and I feel much more experienced now because of what we had to go through."
In such demanding times, we all need to find extra strength and resolve from somewhere, something that's usually easier said than done. So, what is it like when things become overly demanding and where exactly does that extra strength and drive come from?
For Akvilė, "The results of my work give me energy. When I hear that JETMS is a recognisable organisation, even on other continents, I can't express my feelings. For me, one of my greatest motivations is my team and their support, I really feel that everybody is on the same page and fully understands the importance of our daily work. Yes, of course, sometimes it is not easy to move mountains, but that's life, and we are just humans.
Also, my working environment is very important to me, I think here at JETMS we have something special, not even describable, and that I somehow contribute to that special environment and that feeling of never being alone.
Working in the aviation industry can be an enigmatic business, people are often unsure of the jobs of others. Because of this, Akvilė is often asked if she works "as a stewardess" (but only by people who don't know her well). Regarding people's perception of her role with JETMS, she says, "Of course, my family and friends are very curious about my work. Once, my father asked me what kind of job I do in the aircraft maintenance field, but I think during those past four years I have already answered his question. However, I'm happy to say that my friends are proud of me, and some of them are even a little jealous."
And finally, when asked how she felt and how she reacted when she heard her name announced as Employee of the Year, she said, "I was surprised and very excited. My colleagues who were sitting next to me started to scream when it was announced and I felt like I was in a trance or something like that. But, mostly I felt proud of my achievements, and the company's achievements."